Small = Pocket Sized..!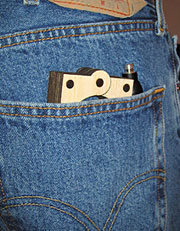 You can litterally stuff the entire bracket in the pocket of a pair of Levis.
What Cameras Work with these brackets..?

The easy answer is "pretty much any camera you can find a way to mount behind a Nikon FC-E9 or FC-E8 fisheye lens.

* Note, I now also have brackets for these popular lenses.
- SIGMA 8mm
- NIKON 10.5mm
- RAYNOX 180pro
- RAYNOX 185pro
The Panorama bracket was designed to use the Nikon FC-E9 fisheye converter lens. This lens naturally works well with most Nikon Digital cameras; however it is worth noting that it works equally well with many other brands provided you can screw the lens to the front of the digital camera., Most new digital cameras have a way of mounting an "extension tube" for filters and add-on lenses; it is easy to get an adaptor filter ring at your local photo store for fitting the Nikon FC-E9 to almost any camera. You'll also need either a step-up or a step-down ring. So far I have successfully used this lens with the travel bracket on the following cameras.
Pana LX3 Recomended
Canon G5
Canon G6
Canon G7 OK but try a LX3
Canon A60
Canon A75
Canon A80
Canon A520
Canon A620
Canon A640 Recomended
Canon Pro1 Recomended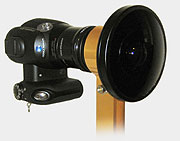 Minolta Z-3
Nikon 5000
Nikon 5400 - Recomended
Nikon 5700
Nikon 8400 - Recomended
Nikon 8700
Almost all CoolPix Cams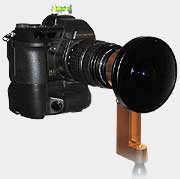 Olympus E20 & E10
Olympus 5050
SONY 717
Sony R1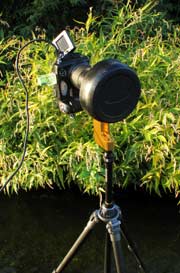 Location in the LA River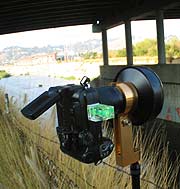 Other Panorama Brackets
KINGpano is a very simple and elegant bracket for multilevel pano photography.
Italian Agnos is very similar to my design, and beautifully manufactured. Includes bubble level and click stop.
Kaidan are big boys in panorama brackets and VR rigs. These brackets are all somewhat larger than my design.