Spherical Panorama Bracket
for Samyang 8mm Fisheye
BETA-TEST 3D printed ABS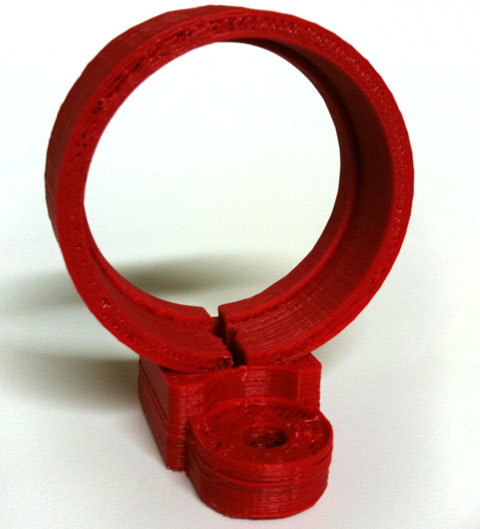 Samyang 8mm bracket for spherical panoramas
This is serial number 001 - just finished, a bit rough but works great. BTW. the base on this one looks a little messed up, that is because I managed to get the printer stuck on the design, Don't ask, shipping versions will be prettier.

NEW - Feb 25 2010
When enough people ask, and a LOT of you have asked about a bracket for the Samyang 8mm spherical lens. Soo off to Amazon and I got a lens this week, took some measurements and then tried printing it on my 3D printer, to be honest I like the wood brackets, but the printed ring can capture the lens much better by snapping into the grove behind the focusing ring. It is also shockingly strong, so at this point Im testing it with my camera to see how it hold up. If you are interested in this bracket, shoot me a email.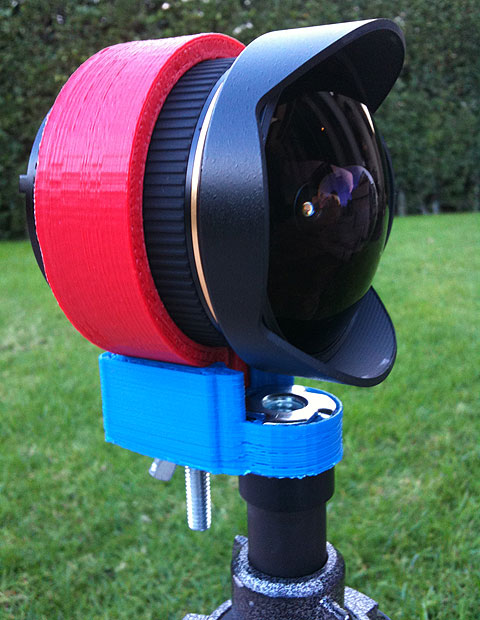 Samyang 8mm bracket Prototype nr 2
This is serial number 002 - Im starting to love 3D printers. those things are amazing, this bracket is ABS with honeycomb pattern inside, I was not able to break the red ring backwards when mounted in the blue base, strong stuff. the red sleeve have a custom shape inside which grip the recessed focusing scale and also lightly grip the focusing ring, so the focus will be locked when the sleeve is attached. this is a perfect solution for use on a monopod.

Welll, having played with this one, there is one issue, the bracket need to be taller so that the footprint of the base will be as small as possible, however I rally like how compact this particular unit is, the blue base fit inside the red ring and everything fit in a pocket. The red ring is 80mm diameter or about 3.5inches, this is probably close to being the worlds lightest and most compact panorama bracket.

Instead of a large rotator I am using a Bogen extension which rotates smoothly and have no practical footprint in the picture, I removed the head from the tripod and mount the Bogen extension directly to the center screw of the tripod, the result is a very small footprint, which I find mostly can easily be retouched with the cloning tool in Photoshop.
Manfrotto product # 259B - Bogen code (USA only): 3007X
Cost is app $20 at places like Samy's in LA and B&H Photo.


Samy's Catalog for the Manfrotto extension tube.

Availability - Working on that part.

Domestic in the USA total price including shipping is $140.-
International shipping total price including shipping is $155.-


Email:

Back to the Panorama Bracket front page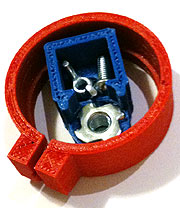 Is there something imoral about a panorama bracket smaller than the lens.?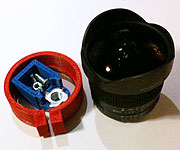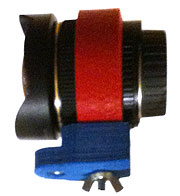 SIGMA 8mm lens bracket
Now available bracket for
Sigma 8mm lens,
More Information
RAYNOX
DCR-FE180PRO
lens bracket
Just started working on a bracket for the Raynox DCR-FE180PRO fisheye lens, More Information