NEW Sep 18th 2005



Support grip for Canon Pro1
Laser cut from Natural Wood
This is positively one of those inventions nobody asked for, but while using my Canon Pro1 with a large flash for a while I realized that I also got a rather sore wrist, this never happend with my DSLR's using the same flash, so I realized that they have a lot more leverage.. The grip is designed to be light, adding only 70 grams to the Pro1, and it also adds a full 1 inch of height to the camera, giving the camera a whole new personality when used with the grip.. its a plessant experience - The grip give you a solid grip on your Canon Pro1.



email me to order

Email:

Powerfull support when using fullsize professional flashes on your Canon Pro1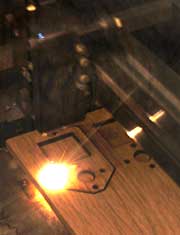 The laser cut Pro1 grip is made from from high grade model aircraft birch plywood, which is a uncommon dense and solid wood.