OK. I am sold, I have just found a new favorite software, the One Cat Doodler 3.0 , written by Keith Leinenbach of One Man And A Cat Software. This software is easy, intuitive, and downright lots of great fun to use. More importantly it is the most advanced drawing application I have come across for my WinCE computer so far. To me, being able to draw and paint on a portable computer is exactly what it is all about.
One Cat Doodler, is a powerful little, vector based, illustration and graphics tool. Some of the noticable features are group and un-grouping of objects, repeated editing of objects, scaling and rotation of single objects or entire groups, floating editable text, a great library of your favorite illustrations, and a neat slide show feature. Not to mention default saving vector based files, with the option of exporting as bitmaps.
The interface is pretty straight forward, the most often used features and options are put on a floating menu, which you can place where it is most convenient, in the same manner the library window pops up as another floating window which can be moved around as you place images from the library.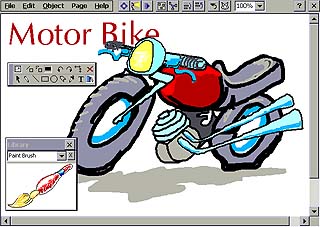 Before you run off, and get confused and disappointed, we better get a few things straight. First of all, drawing on a computer is still not quite like pulling out a pad of paper, some pencils and a eraser... But it is getting better, and is not without a number of cool advantages.
One obstacle is file size. A regular drawing captured with all details would easily consume several megabytes of your storage space, this would be no fun on a handheld computer. Take an example, my Paint Brush illustration which is 240x320 pixels, saved as a bitmap (.bmp) is about 80k, but only about 10k saved in the One Cat Doodler file format (.oce). The big difference is that Keith is using vectors rather than actual bitmap images to save the picture. This has a lot of advantages, other than the obvious file saving, you can scale the image as much as you please without seeing any pixels. The program simply recalculates the image to the new size, this gives you advanced features like smooth scaling of objects, and better rotation. The software always calculates the new position to look as good as if it had been drawn that way in the first place.
You will need to get used to dealing with "object" based illustrations, because unlike something like "Pocket Paint", a pixel editor, which simply adds another dot to the image on top of what ever was there before, One Cat Doodler adds points and objects. Every time you draw a line the software creates a new object which defines the shape of the line you painted. Something like a chair would naturally require several lines (objects). Naturally all these object floating around, can get pretty confusing. To keep things under control, you can select the "arrow" tool and drag over all the objects, which makes up a particular part of any artwork, from upper right to lower left, then click on the "Group" tool on the menu bar, this groups all the lines in your chair into one group which can now be manipulated, you can move, scale or rotate it as you please. One cool thing about object based illustrations is that if you color a drawing after creating it, you can simply color the area you want to have a particular color, then select the color and move it below the black outline. Any line or part of an object can be moved forward or backward compared to the other objects. Say you want the red color on a chair seat to spill out over the edges of the illustration, just leave it on top, but if you want it to be strictly outlined by the original line drawing, simply move it below the black outlines.